Can you host scenarios on your own server Windows system? How to set it up?
Hosting on own server is supported with the Plus subscription plan or the perpetual license.
Then the editor allows to build a bundle with all scenes assets, the bundle also includes server configuration files for IIS, Apache and nginx. All three of these servers can be run on Windows.
Is there a step by step guide on how to set up a server and FTP client for hosting Shapespark?
I have looked through the forums and can't find any clear instructions.
Thanks
We don't have a guide how to setup the server from scratch. Most users that self-host scenes use shared hosting services, where Apache is already configured.
Do you already know which server you would like to use Apache, Nginx or IIS?
Hi Jan,
I dont know which I would like to use. Do you have a recommendation?
I have read on the forums that Apache is the most straight forward to use? Is this correct?
Yes, Apache is the most straight forward. If you have a choice it will be easiest to use a hosting provider that already provides configured Apache instances, so you only upload files to host and .htaccess configuration file for the scene (it is included in the Shapespark bundle).
Great! Apache it is.
Is there anything else I need to know?
Any chance Shapespark can create a youtube how-to on setting up an Apache server?
Can I use a service like media temple to self host?
We've no experience with Media Temple, but based on the information from their website it should work for self-hosting. According to: https://mediatemple.net/webhosting/shared/ their hosting runs on Apache.
When you use a WWW hosting service, such as the Media Temple you mention, you do not have to set up the Apache server on your own - it's already set up for you in the hosting service. The only step to publish your scene is to upload the files from the Shapespark bundle to some directory on your hosting. Usually, the control panel of the WWW hosting has some file manager to transfer files from your local computer to hosting. Alternatively, you can use an FTP client.
My additional suggestion is to choose SSD hosting - you will get faster delivery of files to the visitor.
Google also recommends compressing files (SEO tips) mod_deflate. This is set in cPanel.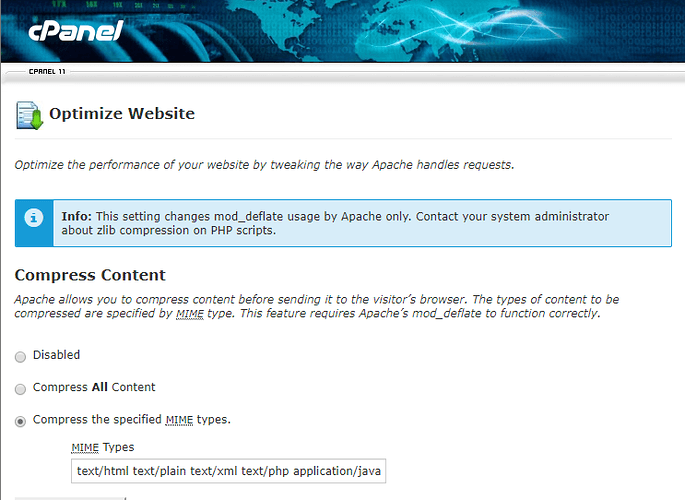 My favorite FTP client is Total Commander.
Hi Vladan.
Thanks for the tip.
Who do you use for your SSD hosting?