We would like to share a preview of meetings. To join a meeting enter: https://demo.shapespark.com/old-brewery2/#meeting-key=XhnC6yl3oSSWISjI&autoplay and pick some name: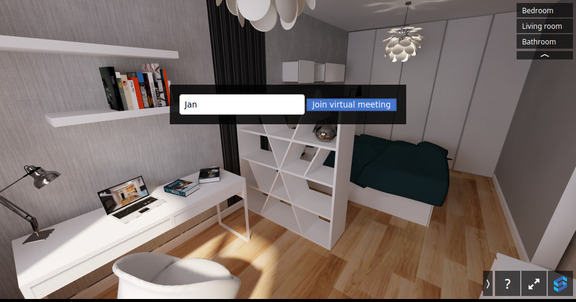 You will be able to see where other meeting participants are in the 3D space. Also material picker choices are propagated to all the participants.
The first use case for such meetings could be a design review, where scene authors and their customers can open a scene together and exchange comments.
We also see an interest in virtual trade shows and showrooms that could allow for interactions between exhibitors and visitors. Such a use case is more challenging in terms of scalability and UX problems to solve, so the first version rather won't support it, but we will be doing some experiments in this direction.
We are still not sure if the meetings should have direct support for audio and perhaps video conferencing or is it better to rely on external applications, such as Google Meet or Zoom.
Any comments are very welcome. Let us know if you see other use cases where such meetings could be useful and what features would you like to see supported.