We would like to invite you to try the newly released Shapespark editor in the cloud mode. To open the editor login to your Shapespark account and click the Edit (beta) button: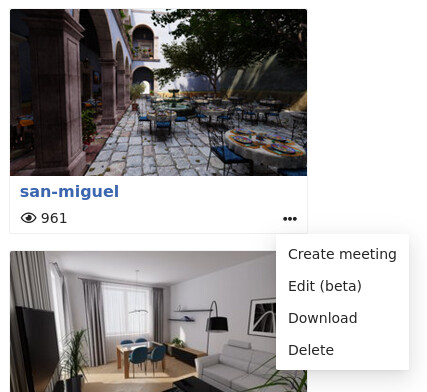 The editor allows you to bake scenes without using your precious local resources. Each bake utilizes 128 cloud CPUs, so it is really fast

In addition to fast baking with the cloud editor you can also:
Quickly inspect or do edits of the existing scenes even if you don't have access to your main computer.
Import scenes in FBX, COLLADA, OBJ and glTF formats directly to the cloud.
All changes done in the editor are saved as drafts. Drafts can be previewed or discarded and are not visible to external users until you Publish draft.
Cloud editor has some limitations:
SketchUp, Revit and 3ds Max plugins still work only with the desktop application. You can use the editor for baking scenes created with these plugins, but you need to first upload such scenes from the desktop application to the cloud.
Editor works with scenes with less than 5 million triangles and 10000 objects.
Baking settings are limited to 1200 samples and 2 lightmaps.
One user can only run one baking job at a time, so you cannot bake several scenes in parallel.
The editor is available only for the paid accounts, not yet for the trial users.
We hope you will give these new features a try and share your feedback with us.