In the newly launched Premium plan it is possible to have custom avatars for the 3D meetings. Configuring custom avatars is a manual process, if you have the Premium plan our team will help with this via support@shapespark.com.
In this scene you can check one example of a 3D model of a custom avatar: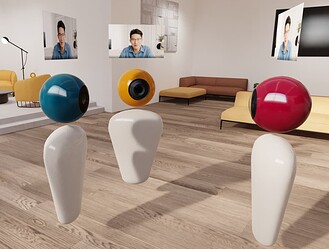 Custom avatars, like the default avatars, still consist of head and torso, but head and torso can be of any shape and can use any texture, so it is possible to, for example, brand the avatars with your logo.
Like with the default avatars, the head rotates when the user looks around.
A video screen can be a part of the head or float above (or be so small that it will be hidden inside the head). A floating video screen will automatically rotate to always face the viewer.
All meeting participants still use the same avatar shape, it is not possible to select/customize the avatar while joining the meeting. The avatars can have areas of unique color that will differentiate the participants.
There is no support for moving hands and legs. For some designs hands that do no move can be a good option, but legs will rather not look well, it is still best to limit the designs to shapes that fly above the ground.
If you have the Premium subscription we can help you with 3D modeling of the avatar of your design or, if you would like to create the 3D model by yourself, we will help to process your model to be usable as the avatar.