Hi,
I have a scene set up with the Object Switch extension to turn off the ceiling to show it as exposed, which works as expected. However, when the ceiling is off, the lighting behind where the ceiling was is too dark. I have tried to place some point lights behind the ceiling, which does work, to some degree, however, as the level of the interior wall finish changes it doesn't solve the issue.
Here are a couple of screenshots: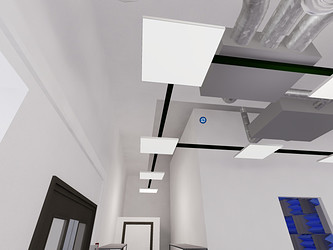 Does anyone have a workaround for this, or is there another way I could set up the model to avoid this issue?
It would almost be great if I was able to bake it with each option, but I do appreciate this would be prohibitive in larger scenes!
Any help much appreciated.
Thanks a lot!